Even David and Goliath would think the men's singles final at the 2017 U.S. Open is far from a fair fight.
On one side of
Arthur Ashe Stadium
in New York will be Kevin Anderson, the lowest seed (28) to compete for this Grand Slam championship in 34 years. On the other, Rafael Nadal, the No. 2 seed in the men's field. Anderson, who's playing in his first final of a men's tennis major, versus Nadal, in his 23rd.
You get the picture.
It's no mistake that Nadal, a two-time U.S. Open champion, is the heavy favorite to win his third;
OddsShark
has the 31-year-old Spaniard's betting odds at minus-750. Not only is Nadal a perfect 4-0 against Anderson, he's dropped just one set out of 10 to the 31-year-old South African.
Will Nadal maintain his dominance opposite Anderson en route to a 16th Grand Slam title? Or will Anderson finally get the best of him and get his own taste of glory at the USTA Billie Jean King National Tennis Center?
To find out, tune into ESPN at 7 p.m. ET to watch Nadal and Anderson's fifth match. If streaming is more your speed, you can it on WatchESPN.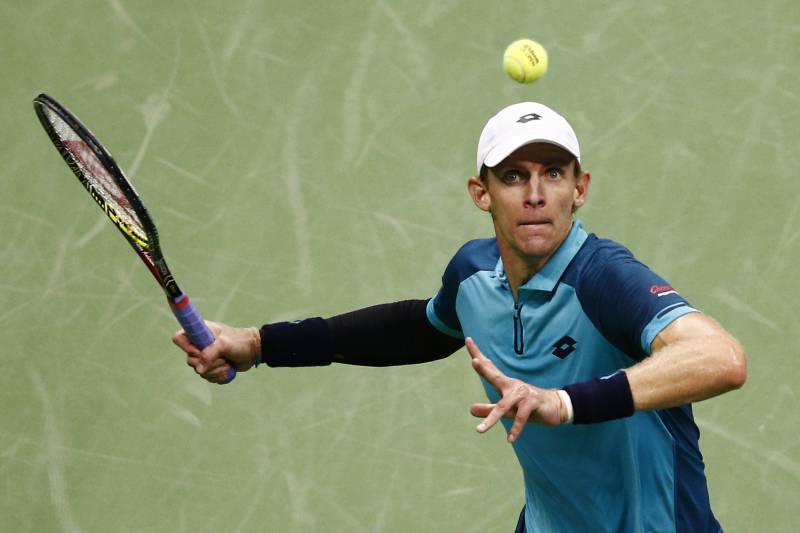 Andres Kudacki/Associated Press
According to the U.S. Open's official website, the winner will walk away with $3.7 million and a trophy for the mantle. The loser will get a handsome check, too, worth $1.825 million.
If anything will matter as much as (if not more than) the money, it's the memory this final could create for each combatant.
Anderson had never so much as sniffed the semifinals of a major during nearly a decade on the ATP circuit. A hot streak amid a depleted men's field has afforded the 31-year-old all the opportunity he needs to seize a piece of hardware in Flushing Meadows.
First came a four-set victory in the round of 16 against Paolo Lorenzi—Anderson's fourth win in as many tries against the opponent. Then it took four more sets to take down Sam Querrey and improve his record to 7-9 against the 29-year-old San Franciscan. To get to the final, Anderson had to endure another four sets opposite Pablo Carreno Busta, thereby extending his record to 3-0 against the Spaniard.
Stopping Nadal would be nothing short of a dramatic upset for the Johannesburg native. All signs points to Anderson being no match for someone as comfortable under pressure as Rafa has long been. Nadal still has power and poise in ample supply to put down all comers, Anderson included.
A single victory here wouldn't do much in the grand scheme of Nadal's Grand Slam-studded CV. It certainly won't add to his record against Roger Federer (23-14), which doesn't include a single meeting at the U.S. Open.
What it would do, though, is move him one step closer to ultimate tennis immortality.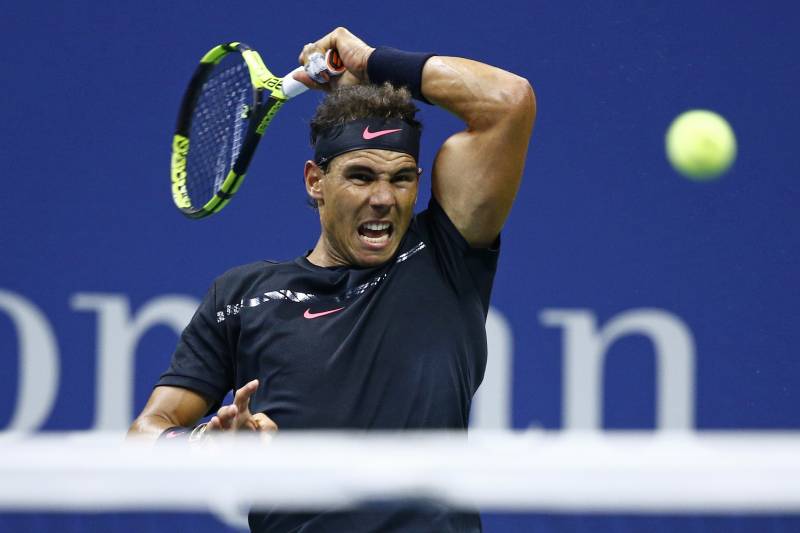 Andres Kudacki/Associated Press
The next major title will be Nadal's 16th. Only one men's tennis player in the sport's history has more: Roger Federer with 19.
Nadal, then, would need at least four more such wins to move past his long-time rival on that particular list. That's assuming Federer doesn't add to his total—which, after this year's triumphs at the Australian Open and Wimbledon, seems unlikely at this point.
But Nadal is nearly five years Federer's junior. Even if you assume Nadal burns out sooner on account of his more taxing playing style, he might still have another three or four good years left. Winning anything close to 25 percent of Grand Slam appearances is a tall task for anyone.
Thus, taking home a trophy from this one could be critical to the big picture of Nadal's legacy. If he downs Anderson on Sunday, he's within sniffing distance of Federer's record. If he stumbles, the top spot on the sport's Mount Rushmore isn't up for grabs for another generation.
Nadal's aggression, tricky groundstrokes and ability to cover tons of ground should be enough to seal victory against Anderson.
Prediction: Nadal in three sets.
Source: http://bleacherreport.com